Season 2015/2016
Meetings are normally held on the second Monday of each month at
Henley Golf Club RG9 4HG (Click for directions)
with the bar opening at 19:30 ready for a for 20:00 start. Visitors and New Members are always very welcome so please encourage your friends to come along - they can either pay £5 for the one meeting (deducted from the joining fee if they subsequently join), or join up for the whole season for just £25 (£35 for families).
---
October 12th 2015
Using Electronics Safely in Navigation and First Aid Afloat
The first half of the presentation will discuss Using Electronics Safely in Navigation, the second half will move on to discuss First Aid Afloat.
Website:- Bisham Abbey Sailing School
Tom SowerbyBisham Abbey Sailing School
Tom grew up around boats and started sailing when he was eight. He joined Bisham Abbey Sailing and Navigation School in 2002 and has won the RYA Inland Waterways Instructor of the Year for his coaching. Bisham Abbey Sailing and Navigation School is based within Bisham Abbey National Sports Centre, located on the banks of the River Thames just outside Marlow in Buckinghamshire.Established in 1991 the School is a RYA recognised training centre run by Roy and Jan May. The School Principal is Tom Sowerby. Over the past 22 years they have won awards for both their training and customer service.
---
November 9th 2015
Things that can spoil your day at sea andCruising the Med with a camera
Vyv Cox is a Chartered Engineer, holding qualifications in both metallurgy and mechanical engineering. Now retired, he worked for 30 years in the petroleum industry, responsible for the diagnosis of engineering failures. Originally based in Anglesey, with wife Jill he cruised extensively between Scotland, Ireland and France. Relocating to Holland they cruised most regions from the Baltic to Biscay in their Sadler 34. Since 2004 they have cruised for six months of every year in the Mediterranean and are currently based in the Aegean Sea. Website:- Cox Engineering
Vyv CoxCox Engineering
Vyv is a highly practical owner, carrying out all minor and major maintenance and advising others on theirs. He is a technical contributor to yachting magazines, particularly Yachting Monthly, where his articles have ranged from anchoring equipment and techniques to the construction of sun awnings and lubricant selection. Vyv will present two talks, profusely illustrated with diagrams and photographs. The first is titled 'Some things that can spoil your day at sea', giving examples of, and explanations for, a number of engineering failures that could, and in some cases did, have disastrous consequences. The topics include corrosion, seacocks, skin fittings and fatigue. The second talk will be a photographic record of a journey through some of the most photogenic areas of the Mediterranean Sea over the past ten years, entitled 'Cruising the Mediterranean with a camera'
---
December 14th 2015
Volunteer Coast Watching
The National Coastwatch Institution (NCI) is a voluntary organisation set up in 1994 to restore a visual watch along UK shores after many small Coastguard stations closed. In 1994 when two fishermen lost their lives off the Cornish coast below a recently closed Coastguard lookout, local people decided to open and restore the visual watch. When the first station was opened at Bass Point on the Lizard, NCI was born. Today 49 stations keep a visual watch around the coastline of England and Wales, with more in the pipeline subject to available funding. Website:- National Coastwatch Institution
Richard HewsThe National Coastwatch Institution
Richard will begin his presentation with an an overview of the Charity and the activities in which it is involved. Richard will then discuss the varying nature of the incidents in which volunteer watchkeepers have been involved since NCI was started in 1994. Following an initial service career, Richard worked in key management roles with three leading UK PR consultancies. He acted for many public companies providing strategic counsel to Chairman and CEO's and this involved him in planning and co-ordinating high profile press and publicity campaigns. As a Trustee and PRO for the National Coastwatch since 2007, Richard has responsibility for raising profile and awareness of NCI as a leading constituent of the UK SAR organisation. He also has oversight of national fundraising, looking particularly at potential donors and sponsors with a maritime focus.
Ten years sailing in New England
Roger ShawHenley Offshore Group
In our second presentation of the evening, Roger Shaw former Commodore of the Henley Offshore Group will discuss his experiences sailing off the New England coast. Roger will share with us both nautical (nearly drowning his children, being boarded by armed US Coastguard) and historical (whaling in Mystic and Nantucket) anecdotes. This talk is based on living in the US for 7 years, owning a 26'Bristol and sailing weekends across Long Island Sound to Oyster Bay and in July taking 2 weeks to sail to Martha's Vineyard and back.He will also tell a tale about learning to hold a Glock pistol while the Skipper got his shotgun ready to shoot approaching drug runners in a RIB!
---
January 11th 2016
Cruising the East Coast
John is a past Commodore of Reading Offshore Sailing Club and sailed the Solent and north coast of France for about three decades.
John HainesReading Offshore Sailing Club
In 2014, John and his wife decided to satisfy a long standing desire to sample the shallow waters of the East Coast and its rivers. Following a few weeks in Suffolk they made the decision to base their boat on the River Orwell from the 2015 season. Many people have asked, "Why go to the East Coast, there's nothing there?" John's answer is that they cannot have been there or else they only passed by at night. John will describe his personal take on life amongst the sandbanks, windfarms and mud of the East Coast along with the challenges of actually getting there and pilotage, navigation and sights once actually there. Yes, it is different from the South Coast.
---
February 8th 2016
Participating in The Carib 1500
The longest-running ocean crossing rally in North America, the '1500' is a must-do for many cruisers. The ARC Caribbean 1500 fleet sails from Portsmouth, Virginia at the mouth of the Chesapeake Bay to Nanny Cay on Tortola, British Virgin Islands. Website:- The Carib 1500
David Young
In the first presentation of the evening David will discuss the safety aspects of participating in an event such as the ARC covering the preparations necessary and the briefings involved. The presentation will involve a practical demonstration of some aspects of the issues.
Sailing From Vancouver
In the autumn of 2008 and 2009 Ian cruised the waters of Vancouver Island and its smaller neighbours. Initially on a cruise and learn course and then with the family on a bare boat charter. With the company of sea planes and log booms, sea otters and IALA B buoyage making for a very different experience.
Ian SimpsonMember - Henley Offshore Group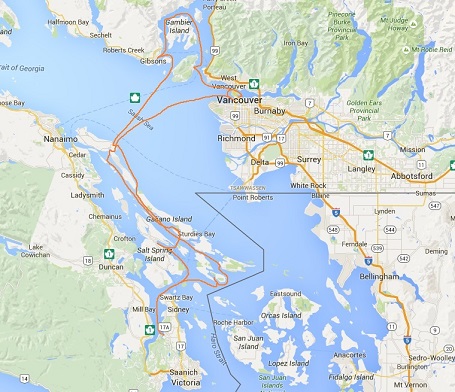 For our second presentation of the evening Ian will describe some of the wonderful locations to visit and the lessons learned from sailing in such different waters.
---
March 14th 2016
Traversing the Gota Canal in Sweden
Clive WilliamsMember and former Commodore Henley Offshore Group
The speaker is club member and former Commodore, Clive Williams who is relating the story of himself and Jane, crossing the Gota Canal, Sweden. The canal has 58 locks, fierce conditions and is known as The Divorce Ditch, owing to the number of husband and wife crews who come to grief, during difficult negotiations ascending the canal.
---
April 11th 2016
The work of the RNLI
Peter has been a volunteer fundraiser in the Reading area for over 20 years, although his connections with the RNLI stretch back much longer to childhood day trips to the coast and taking part in his first street collection as a 14 year-old schoolboy in Leicester.
Peter Wilford
The RNLI is the charity that saves lives at sea. It provides, on call, a 24-hour lifeboat search and rescue service around the UK and Ireland, and a seasonal lifeguard service. With its lifeboats, lifeguards, safety advice and flood rescue, it is committed to saving lives, rescuing an average of 24 people every day. Peter will begin his presentation with a review of the History of the RNLI from its foundation in 1824 and its development into the modern volunteer rescue service that is generally regarded as one of, if not the, best in the world. The second part of the presentation will look at the work of the RNLI on the tidal River Thames from Teddington Lock to the Estuary and will also look at recent / planned developments on the South Coast. Website:- RNLI
---
Please do try and support the events as we are a relatively small group and need your attendance in order to attract good speakers. Please spread the word to your friends, who as you know, are always welcome to attend for a very modest entry fee. For more information about the Henley Offshore Group, please send an email to Info(at)henleyoffshore.org correcting the strange "(at)" format which is intended to avoid spam. If you discover a problem with the website or any email distribution list, please contact the webmaster at webmaster(at)henleyoffshore.org