Season 2017/2018
We hope you have had fair weather and great sailing during the Summer
Our outline program for 2017/18 is shown below
Meetings are normally held on the second Monday of each month at
Henley Golf Club RG9 4HG (Click for directions)
with the bar opening at 19:30 ready for a for 20:00 start. Visitors and New Members are always very welcome so please encourage your friends to come along - they can either pay £5 for the one meeting (deducted from the joining fee if they subsequently join), or join up for the whole season for just £25 (£35 for families).
---
9th October 2017
To the Baltic and Back in a season
Bob and Sue Garrett
Bob and Sue Garrett have had their own yacht (based in Chichester harbour) since 2005 having previously crewed and chartered regularly. In "To The Baltic and Back in a Season" Bob and Sue will illustrate their trip, which went as far as St Petersburg, focussing on the journey there and back, many of the places they visited and events they experienced. They will also talk about the practicalities of planning, navigation, berthing, customs, weather etc. The six month trip to the Baltic followed their retirement and was their first experience of being on board for over a month.
---
13th November 2017
Stuart Wood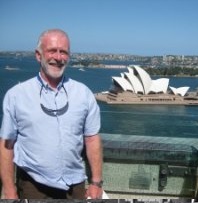 Stuart Wood is the Operations Director of the Daniel Adamson Preservation Society. He was a Marine Pilot with Liverpool Pilotage Services for over 40 years. He had responsibilities for safety matters and also acted as a consultant to a number of large maritime organisations including a year as the Chief Pilot for Jeddah in Saudi Arabia. Stuart will tell the story of the Daniel Adamson, a remarkable survivor from the steam age and a most unusual vessel. A small but incredibly powerful canal tug, she was built to tow long strings of barges from inland towns to the great seaport of Liverpool. She was built at Cammell Laird shipyard in Birkenhead in 1903, and named the Ralph Brocklebank. During the First World War, she also had a short stint working for the Royal Navy as an unarmed patrol boat around the Liverpool coastal area. The Ralph Brocklebank was bought by Manchester Ship Canal in 1922 and as part of her uses took visiting VIPs including King Fuad of Egypt, King Faisal of Iraq, King Amanullah of Afghanistan, and the Sultan of Zanzibar around Manchester's famous inland docks. In 1936 the Ralph Brocklebank was given a radical refit and her name changed to that of the ship canal's founding father Daniel Adamson. The newly renovated Daniel Adamson boasted the clean bold lines, geometric patterns and block colours of the unapologetically modern Art Deco style.
The Daniel Adamson Story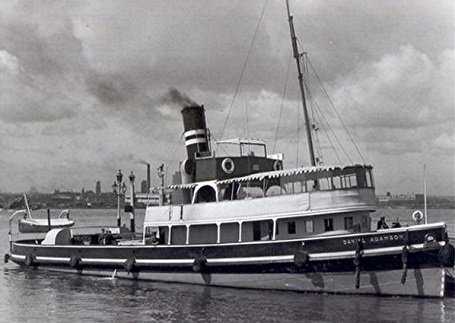 In late 1984 the Daniel Adamson was withdrawn from service and moved to a museum but she soon fell victim to funding cuts and in early February 2004 she was earmarked for scrapping at Garston. The Daniel Adamson Preservation Society (DAPS) was formed to save her and bought the Daniel Adamson from owner MSCC for the princely sum of £1. Many members and volunteers joined up to DAPS, bringing much needed skills, enthusiasm, and crucially, time. The commitment and fundraising drive paid off, and in February 2015 the Heritage Lottery Fund awarded £3.8m to restore the Daniel Adamson to full working order. From a vandalised wreck days away from the breaker's yard, the Daniel Adamson has sailed into the elite ranks of the National Historic Fleet, the maritime version of Grade I listed building status – alongside vessels of national significance such as the Cutty Sark, HMS Victory and SS Great Britain. Text and Image Courtesy of the Daniel Adamson Preservation Society. Website
---
11th December 2017
The Liberdade - Tales of Joshua Slocumb
Joshua Slocumb was the first man to sail single-handedly around the world. He was a Nova Scotian born, naturalised American seaman and adventurer, and a noted writer. In 1900 he wrote a book about his journey Sailing Alone Around the World, which became an international best-seller. He disappeared in November 1909 while aboard his boat, the Spray.
Mike Austen
After being stranded in Brazil with his wife and two sons, Slocumb started building a boat that could sail them home. He used local and salvaged materials and worked with local workers. The boat was launched on May 13, 1888 and was given the Portuguese name Liberdade. It was an unusual 35-foot (11 m) junk-rigged design which Slocumb described as "half Cape Ann dory and half Japanese sampan. He and his family began their voyage back to the United States, his son Victor (15) being the mate. After fifty-five days at sea and 5510 miles, the Slocumbs reached Cape Roman, South Carolina. Our speaker, Mike Austen gained a cadetship at the College of Air Training, in Hamble, and graduated as a Commercial Pilot in 1964. During his 33 year career with BEA and British Airways he flew the Vanguard, Trident, BAC 1-11 and variants of the B747, gaining his command in 1973. Mike's sailing career began in earnest when, in 1994, he competed in the Sydney-Hobart and the Sydney-Mooloolaba races while undergoing chemotherapy for Lymphoma. In 1996 he joined the crew of "Time and Tide" in the BT Global Challenge, sailing the Rio to Wellington, and Wellington to Sydney legs before acute Tenosynovitis of all his fingers and thumbs forced him to leave the boat in Sydney, and undergo intensive physiotherapy at the BA Medical Centre back in the UK. After retirement in 1997, he completed his first of three Transatlantic crossings to gain the Ocean endorsement of his Yachtmaster power and sail. He is a member of the RORC, the Royal Southern Yacht Club, the International Association of Cape Horners and the Army Sailing Association. Mike has sailed well over 55,000 miles and lives in Port Solent where he keeps his yacht "Up To Speed", a Dehler 35, in which he intends to race offshore double-handed.
---
8th January 2018
Alice Eves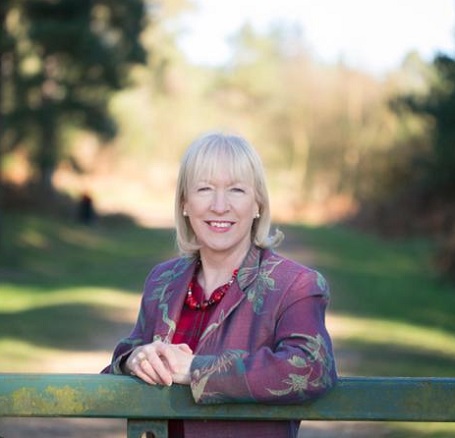 Full of energy and sense of adventure Alice Eves, close to the age of 44, set off with her husband, Francis, for eighteen months exploring parts of the South Pacific and South America. Alice sailed 900 miles from the Marquesas Islands through the Tuamotu archipelago to the Tahitian Islands. These were some of her happiest times of life just living close to nature, off the beaten track and so beautiful. Later she joined their boat in Almanza, Argentina in the Beagle Channel and sailed there for just a few weeks. The next invigorating sailing journey was from Florianopolis, Southern Brazil up to Rio with some time also spent further north in Salvador, Bahia, Brazil.
Sailing French Polynesia and Brazil
The voyage took over two years in the planning. Their house in Los Angeles was sold, belongings put in storage and various other arrangements made. Books on ocean cruising were consulted and notes made; equipment ordered; charts acquired and they were off. Alice became a lawyer in England and California before setting off on this adventure. Afterwards Alice moved back to live in England and is now based in Dorset where she is writing a novel. Her book about her sailing experience south of the equator is called Papaya with Sugar and is available on Amazon books and on Kindle. Sailing experience: many summers sailing around the Inner Hebrides, especially the Isle of Mull; a journey from Falmouth to Stornaway; short sails in the Vancouver area and Sitka, Alaska; Martha's Vineyard and Cape Cod and seven years of weekend sailing and more in Southern California. The sailing in Vancouver and in Alaska were both on chartered boats. The Scottish sailing was on a Contessa 26. The South Pacific, South America and California sailing were all on a Tradewind 35 called "Plainsong". "Plainsong" is still based in her home port of Oxnard, California
---
12th February 2018
Peter Bruce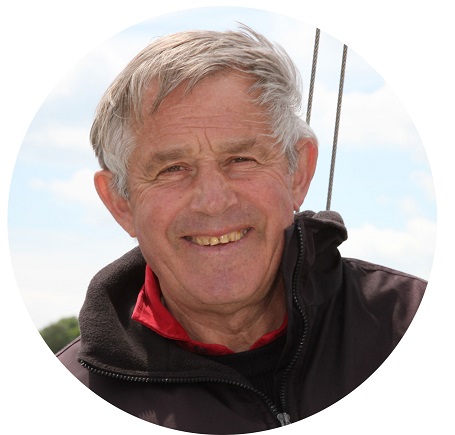 Peter Bruce's website can be found here with much more information about his books and presentations.
Heavy Weather Sailing
Bad weather sometimes arrives unexpectedly and, if caught out, it is better to have learnt some good principles beforehand from a renowned expert rather than learn the hard way. Peter Bruce's famous book provides the basis for this presentation. He has selected some vital aspects of stormy weather from the plethora of extremely useful information to be found in the book. Peter Bruce has represented Britain on seven occasions, four times in the British Admiral's Cup Team, twice in the British teams for the Southern Cross series in Australia and once as the sighted skipper of one of the British Team blind sailing crews. In 1979 he was in the top individual boat in the Admiral's Cup, twice, in 1977 and 1981, he was in the winning Admiral's Cup team and, when skippering the blind crew in 1992, he won a gold medal. Steering his own boat he has won at Cowes Week on seven (or is it eight?) occasions, and at the helm of his boat The Goodies in 1978, he won the Round the Island Race Gold Roman Bowl. As well as winning his class many times in Cowes Week he has won his class, again at the helm of Owl in the Scottish Series and at Cork Week. At the helm of someone else's boat he won the famous double, the Britannia Cup and the New York Yacht Club trophy in the same Cowes Week. Skippering his own boat he has twice won RORC races overall, and the national titles that he has won are rather too numerous to mention. He has twice been runner up in the Royal Lymington Cup International Match racing series and in 2012 Peter Bruce was the local knowledge expert aboard the 203 ft Athos when she won her class in the superyacht regatta at Cowes. He has cruised the Scottish coast on ten occasions leaving few places, however remote, unvisited and has also cruised to Ireland on ten occasions. He has taken his yacht to the Netherlands, has been through the Canal du Midi to the Mediterranean, and thence to Malta. His current yacht, the fourth Owl, is a Maxi 1100 in which he has continued on the cruising side of his sailing life. In 2007 he took her to Ireland and Spain, in 2008 he went to Scotland as far as Cape Wrath and out to the Outer Hebrides. In 2010 he cruised from Stockholm to Helsinki. In 2010 he cruised the Turkish coast and in 2012 he cruised to Newfoundland. In 2013 he took Owl up to Orkney and Shetland and back to Lymington. Since then he has cruised to the Aegean and Adriatic Seas as well as to the Baltic again. Image and text reproduced with kind permission of Peter Bruce.
---
12th March 2018

Tonight we will have two presentations on very different topics both from members of the Henley Offshore Group.
Navigation Technology Developments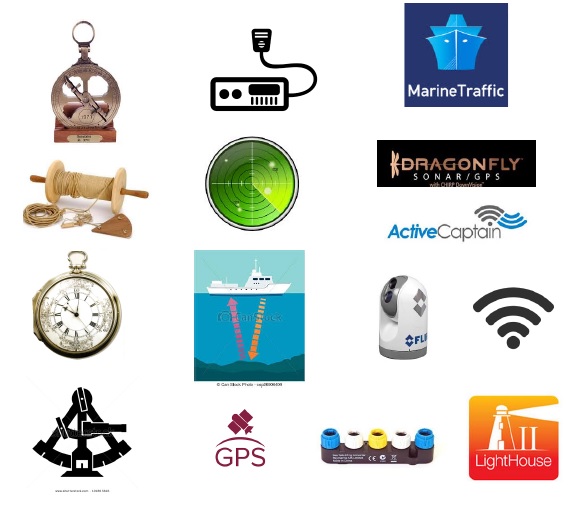 Charles Tollit
We may take modern marine navigation and safety aids for granted, but how did it start, what were the key enablers and where is it going in the future? This talk will cover over one thousand years of development and look to the future - all in sixty minutes! Charles has been sailing for over fifty years and for three years in the early eighties worked for a production boatbuilder. Charles is now the owner of a Beneteau Swift Trawler based on the south coast and a committee member of HOG.
Geoff Probert
Kelpie was designed by Alfred Mylne as a Solent 38 footer and built by the yard of FG Fay & Son in Southampton in 1903. A detailed specification for Kelpie as she is now may be found here Sandeman Yacht Company
Sailing in the Med Classics
In more recent times after Kelpie was restored to her former glories she races in Classic Yacht events in the Mediterranean including the Panerai Classic Yachts Challenge. The 2017 Challenge involved 11 regattas in the Mediteranean, the UK and the USA concluding with the Regattes Royale in Cannes. Kelpie does not take part in the races in the USA. Geoff Probert is a member of Henley Offshore Group and also the Henley Whalers. He has sailed on Kelpie regularly in the Mediterranean. Slso presenting will be Kathy Mansfield a professional photographer who has taken many photographs of Kelpie in action, a gallery of them may be seen here Kathy Mansfield Gallery. The Panerai Classic Yacht Challenge.
---
9th April 2018
Comm. Gerry Thwaites R.N.
Life as Chief Engineer on the Royal Yacht Britannia
During his military career Commodore Gerry Thwaites held a number of operational and strategic appointments Two of these were as, Chief Engineer of the UK Submarine Flotilla and Captain Fleet Maintenance of a major military base. He was also Commandant of the Defence College of Electromechanical Engineering delivering tri-service military technical training and Director Navy Recruiting. Gerry is a submariner and nuclear engineer and so spent much of his Naval career either under the water driving submarine nuclear reactors or above the water maintaining them. So it was with some surprise that that he found himself on the Royal Yacht Britannia as the Senior Engineer - this is his story. Gerry is a Liveryman and Court Member of the Worshipful Company of Turners and a Freeman of the City of London. He is a Chartered Engineer, Member of the Institute of Mechanical Engineering and a Learned Member of the Nuclear Institute. he has his own consultancy providing business solutions architecture to a wide range of clients.
---
To see our events in season 2015/16
Click Here
For 2016/17
Click Here
Please do try and support the events as we are a relatively small group and need your attendance in order to attract good speakers. Please spread the word to your friends, who as you know, are always welcome to attend for a very modest entry fee. For more information about the Henley Offshore Group, please send an email to Info(at)henleyoffshore.org correcting the strange "(at)" format which is intended to avoid spam. If you discover a problem with the website or any email distribution list, please contact the webmaster at webmaster(at)henleyoffshore.org