---
14th October 2019
Rear Admiral John Lang DL will give a two part presentation.
The first part will cover the work of Trinity House whilst in the second part he will discuss "The Life Of A Contented Sailor"
Trinity House is a charity dedicated to safeguarding shipping and seafarers, providing education, support and welfare to the seafaring community with a statutory duty as a General Lighthouse Authority to deliver a reliable, efficient and cost-effective aids to navigation service for the benefit and safety of all mariners.
---
11th November 2019
Sailing Touché in Norway
Touché is a standard Island Packet 380 from 2002. It is owned by Judith who is Danish and her Norwegian husband Haakon. They met 23 years ago whilst crewing on a different boat .They quickly found out that they preferred sturdy, long-keeled cruisers rather than the fin keel boat they helped deliver. Three months later they bought their first boat together even though they lived in different countries. A year later they married and another year later they finally made their home together in Denmark. Touché is their 3rd boat.
Tonight Judith will tell us about their three summer sailing odyssey on the west coast of Norway. Starting from Hardanger Fjord - just 180 nm due east from Lerwick in Shetland all the way up to the Arctic circle and way beyond to the Archipelago of Svalbard reaching 80 degrees North. Then returning all the way back.
Judith Jacobsen
They sailed past charming coastal villages, small islands in the teeth of the North Atlantic and rounded the feared Stad peninsula. This reaches like a fist far out into the ocean and is such a threat to oceangoing vessels in bad weather that Norway is now planning to blast a tunnel through it, that will accommodate large ocean going vessels as well as sailboats with the mast up. There will be pictures and talk of once thriving but now deserted small isles where people lived and made their living fishing. They are now used as summer retreats by the descendants of the fishermen. Touché also visted 'Svartisen', the only glacier in mainland Norway that reaches down to sea level - although with climate change you actually have to walk a little to see it up close and personal. You can collect thousands of year old ice for the night's sundowner. Above the Arctic circle during the summer Norway has the midnight sun. As the sun never sets the sun-downer had to be re-christened as the anchor-downer. Judith will also briefly touch upon the rules for foreign flagged vessels wishing to overwintering Norway. Touché spent its three winters in three different locations Judith warns us that the country is so large, so interesting, and so beautiful that by the end of the presentation you will want to visit Norway for yourself
---
9th December 2019
The Peloponnese
Trevor Morey
---
13th January 2020
Sailing The Caledonian Canal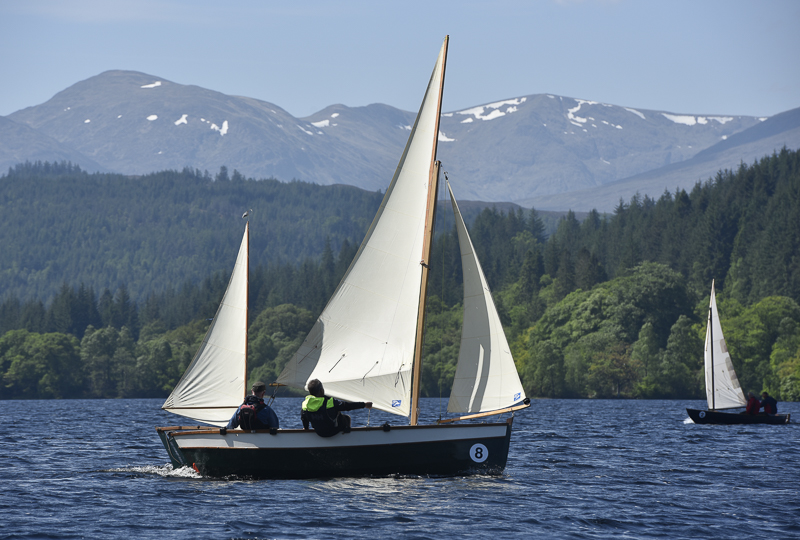 Image with permission of Kathy Mansfield
Kathy Mansfield
Sailing Scotland's Caledonian Canal, from Fort William via mountains and lochs to Inverness. Try it in small boats for a very Scottish adventure! Kathy who is a professional photographer specialising in Classic Sailing vessels will return to Henley Offshore to talk about the passage and share some of her photographs. Kathy's website with much more information and photographs may be found here:-Kathy Mansfield Photography
---
10th February 2020
Duncan Wells
Stress Free Sailing and Navigation
---
9th March 2020
Dunkirk Little Ships
Hundreds of small boats helped rescue soldiers from the beaches at Dunkirk in 1940. This is the story of those Little Ships and their incredibly brave crews. 2020 will mark the 80th anniversary of the "miracle of Dunkirk".
Richard Poad
Richard Poad's interest in history and architecture began when he was at school. He studied Modern Languages at university, where he also learned to fly - which led to a 33 year career with British Airways. He keeps a narrowboat on the Thames at Cookham, and has navigated many of the canals and rivers of England over the last 35 years.
---
20th April 2020 - Please Note Date Change
Solo UK Circumnavigation in a Sadler 25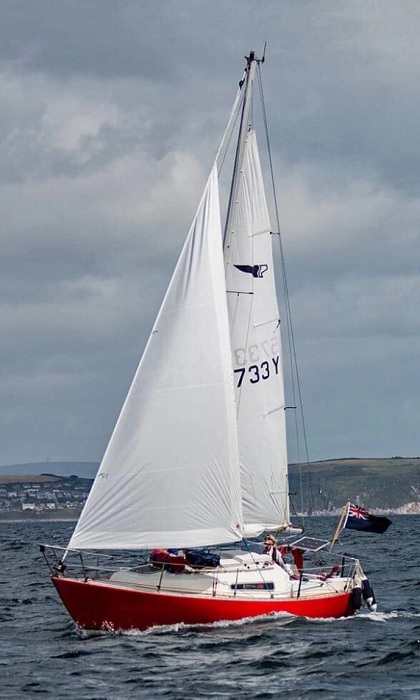 Image with permission of Jill Rogers
Jill Rogers
When Jill first tried sailing she really didn't like it; aged 26 she was not impressed after a week (RYA Competent Crew) of being becalmed on a small boat with a group of strangers but she gave it another go in 2008 and really loved the excitement of the Round the Island Race (IOW) when she crewed for a friend. She'd got the sailing bug! With a friend she bought Vela, a 1981 Sadler 25 in 2016. In May 2019 with limited single handed sailing experience she set sail from Portsmouth on a clockwise circumnavigation of the UK. This evening Jill will share her experiences of the voyage with us. Jill's blog with much more information and photographs may be found here:- VelaTour
---
Our meetings are usually on the 2nd Monday of each month from October to April in the meeting room at
The Catherine Wheel, Henley
. We start the meeting at 8.00pm. Visitors and new members are always welcome for only £5 per meeting, and annual membership costs just 㿅 for individuals and £35 for families. To get the most up to date information about our programme of events please
Click Here
.